Technology Intelligence
We support Hyundai Motor Group's R&D strategy through
technology information research, data analysis and global communication.
Technology Intelligence
Multi-language Translation Support
Multi-language Translation Support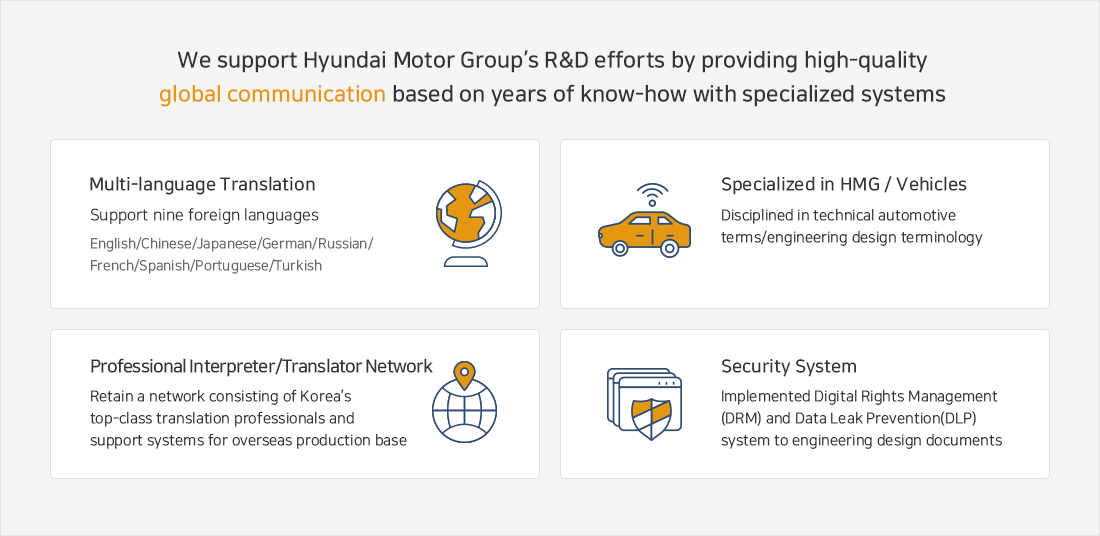 We retain a pool of professional interpreters/translators from top-class interpretation/translation graduate schools, facilitating communication between Hyundai Motor Group company and overseas bases.
Supports interpretation/translation of nine languages-English/Chinese/Japanese/German/Russian/French/Spanish/Portuguese/Turkish
Features
Networks of Professional Interpreters/Translators

Nation's top-class interpreters/translators and support systems for overseas production bases

Specialized in HMG/Vehicles

Disciplined in technical automotive terms/engineering design terminology and implemented quantitative quality management

Security System

Implemented Digital Rights Management(DRM) and Data Leak Prevention(DLP) system to engineering design documents
Global Communication
Translate engineering design documents into English
Provide interpretation for technical advisers
Translate Training materials for Hyundai Motor Group companies
Support overseas R&D centers/production bases
Translate presentation materials for representatives
Translate technical data/books

5th Fl., Hyundai & Kia Next Generation Vehicle Building, 314 dong, Seoul National University, 1 Gwanak-ro, Gwanak-gu, Seoul
Tel. +82-2-870-8000 / Fax. +82-2-870-8088
ⓒ 2018 HYUNDAI NGV. ALL RIGHTS RESERVED.