Technology Intelligence
We support Hyundai Motor Group's R&D strategy through
technology information research, data analysis and global communication.
Technology Intelligence
Technology/Data Analysis
Technology/Data Analysis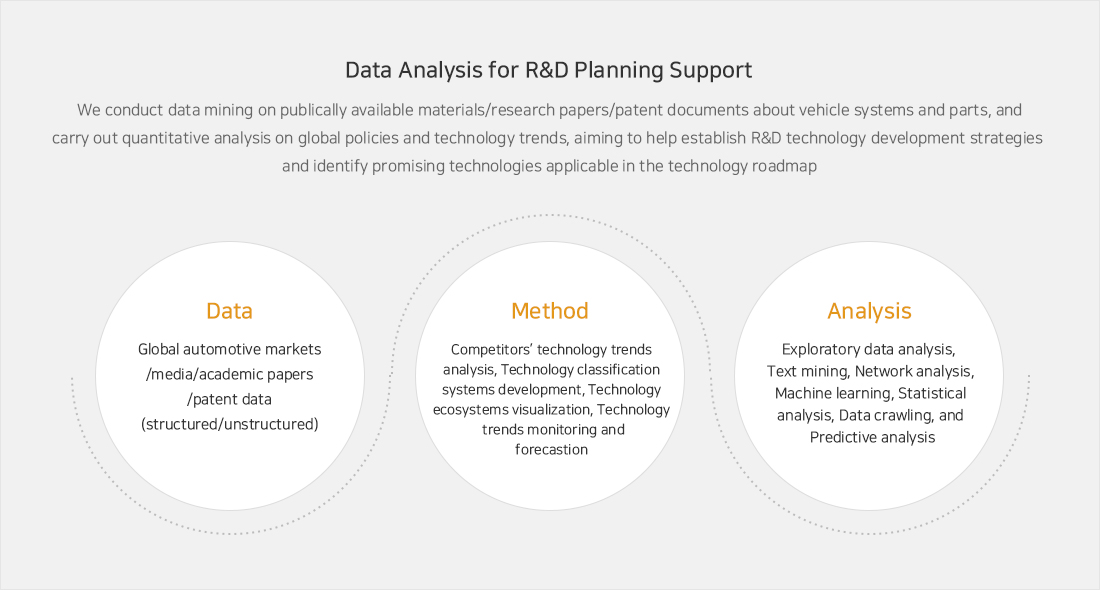 Hyundai NGV helps Hyundai Motor Group to establish its future R&D strategy, by analyzing big data on the external technology ecosystem.
Collect, analyze and visualize various types of data, based on the on-site team's needs for data analysis, and help the team to make a strategic decision
Hold technology planning workshops targeting internal/external experts and suggest a future strategy scenario with regard to emerging technologies.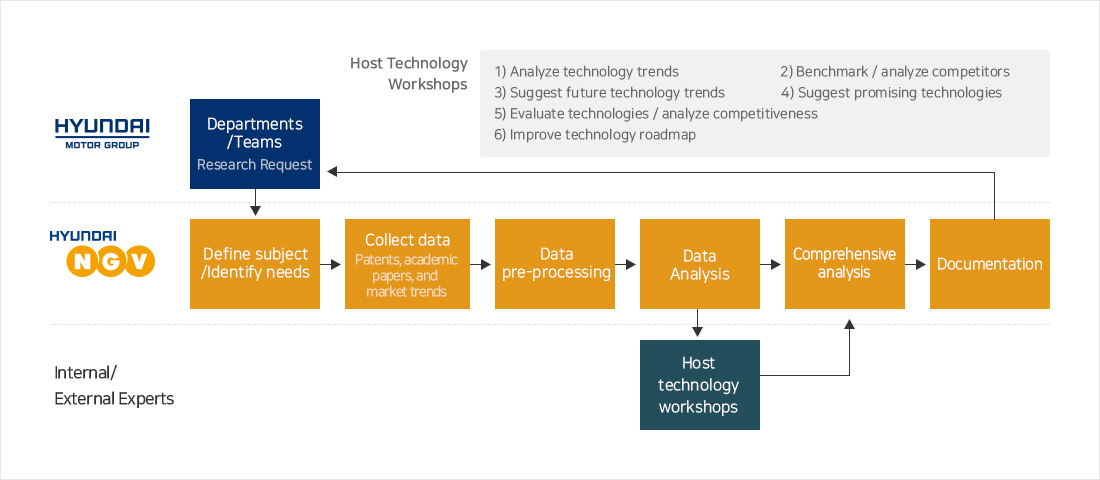 Features
Analysis Customized to On-site Department's Needs

Conduct a comprehensive analysis on patents, academic papers and market data by technology and by competitor
Analyze and forecast emerging convergence technologies through experts' ideation in each sector

Support for Strategic Decision-making based on Big Data Analysis

Provide advanced analysis results, utilizing typical (numeric)/atypical (textual) data
Visualize data effectively to help decision-making

The proprietary methodologies of finding out promising technologies based on analysis of upcoming trends and quantitative indices

Patent Publication (KR)10-1800253
"System for generating technical development road map and method thereof"
Patent Application (KR)10-2020-0005113
"Apparatus and method for generating document cluster"
Utilized DB
Analysis / Visualization Tools
Analysis Capabilities
Data-driven Technology Roadmapping
Patent strategy analysis
Predictive modeling/Trend analysis
Data visualization

5th Fl., Hyundai & Kia Next Generation Vehicle Building, 314 dong, Seoul National University, 1 Gwanak-ro, Gwanak-gu, Seoul
Tel. +82-2-870-8000 / Fax. +82-2-870-8088
ⓒ 2018 HYUNDAI NGV. ALL RIGHTS RESERVED.