Technology Intelligence
We support Hyundai Motor Group's R&D strategy through
technology information research, data analysis and global communication.
Technology Intelligence
Technology/Data Analysis
Technology/Data Analysis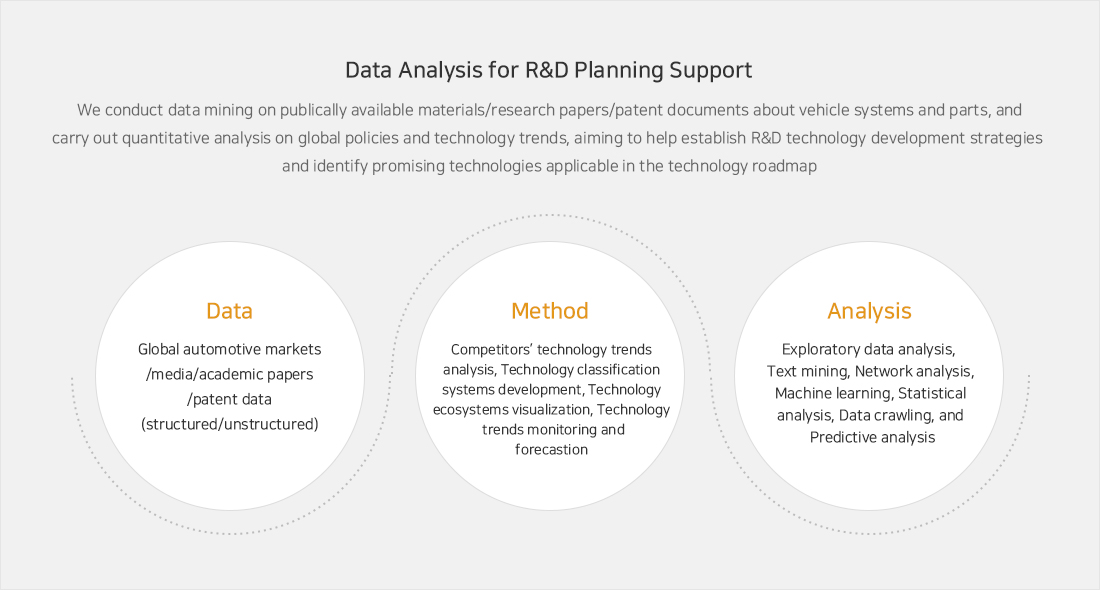 We help Hyundai Motor Group to establish its future R&D strategies by analyzing big data on external technology ecosystem
Collect, analyze and visualize various types of data, based on the needs for data analysis, and help to make strategic decisions
Host technology planning workshops targeting internal/external experts and suggest future strategy scenarios with regard to emerging technologies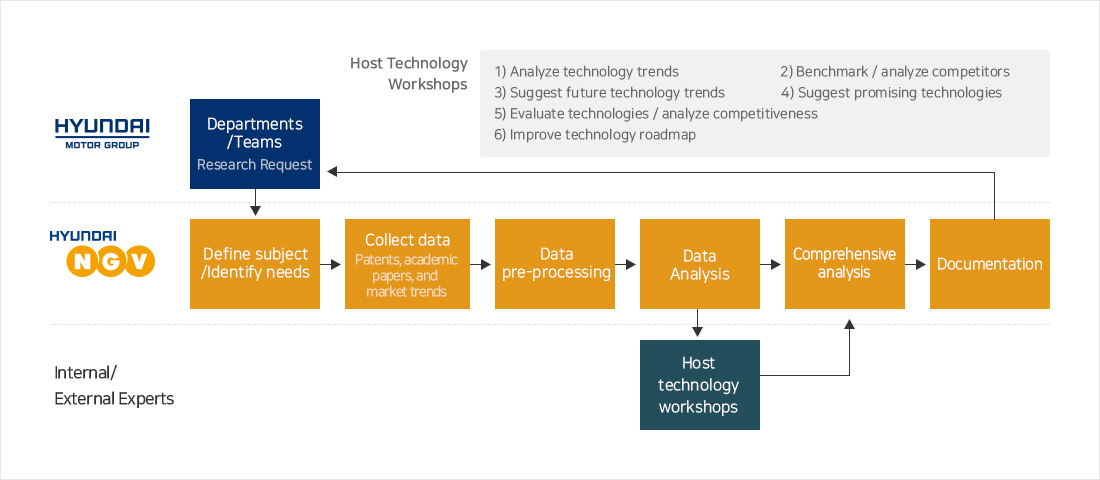 Features
Analysis Customized to Clientele's Needs

Conduct comprehensive analyses of patents, academic papers, and market data by technology and by competitors
Analyze and forecast emerging convergence technologies through experts' ideation in each sector

Support for Strategic Decision-making based on Big Data Analysis

Provide advanced analysis results utilizing structured(numeric)/unstructured(textual) data
Effective data visualization to help decision-making
Utilized DB
Analysis / Visualization Tools
Analysis Capabilities
Data-driven Technology Roadmapping
Patent strategy analysis
Predictive modeling/Trend analysis
Data visualization

5th Fl., Hyundai & Kia Next Generation Vehicle Building, 314 dong, Seoul National University, 1 Gwanak-ro, Gwanak-gu, Seoul
Tel. +82-2-870-8000 / Fax. +82-2-870-8088
ⓒ 2018 HYUNDAI NGV. ALL RIGHTS RESERVED.