$page_num_depth_01 = 2; ?> $page_num_depth_02 = 2; ?>
Industry-Academy-Research Cooperation
Hyundai NGV establishes a technological cooperation network in partnership with universities and R&D institutions at home
and abroad and engages in industry-academy-research joint research activities, aiming to secure future source technologies
and improve Hyundai Motor Group's technological competitiveness.
Technology Cooperation
Networking with Experts
Networking with Experts
We coordinate technological exchanges and create a human resource network with experts, aiming to share research trends and collaborate on the technologies of interest.
A Network of Experts
We operate a network of experts, including the technical advisory committee and professors on sabbatical leave, as well as technology seminars and R&D forums led by Hyundai NGV's Technological Collaboration Team. We also convene in-depth discussions and lectures on R&D trends and research themes about new technologies to bring about high-quality, active industry-academy cooperation in R&D.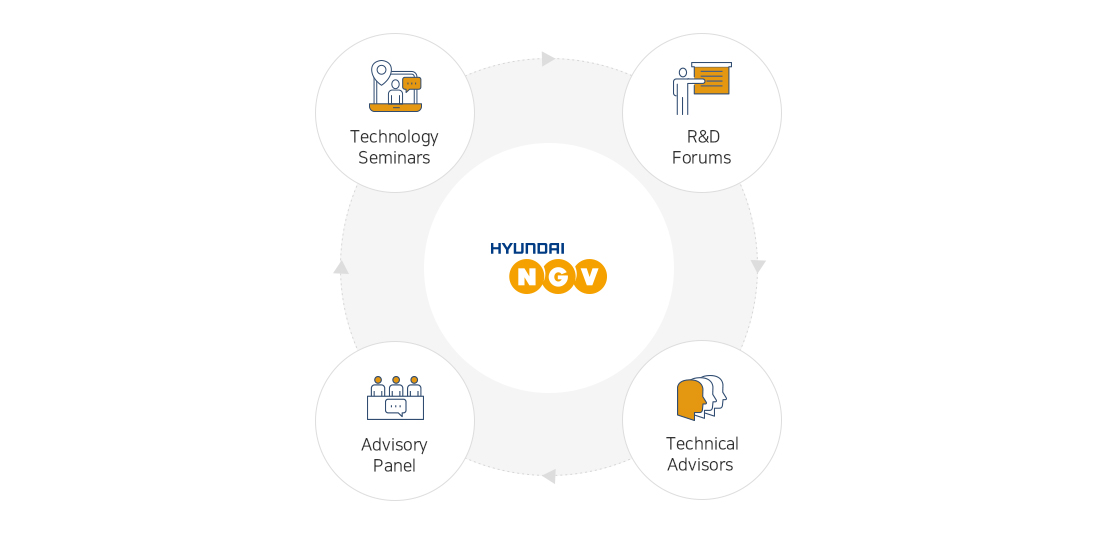 Operation Model & Effects
Hyundai NGV establishes a network of experts and provides a help customized to each issue, including lectures, technical discussions, on-site training, consulting, etc. Through these efforts, we help establish an R&D strategy and strengthen R&D capabilities, ultimately bringing about tangible operation achievements.
Technology Seminars
Resolve pending issues, understand R&D trends and built a strategy

Operation format : Lectures by guest speaker, related discussions
Effect : Set an R&D direction, identify the cause of a technological issue and seek solutions
R&D Forum
Explore new technology trends and establish a network of experts

Operation format : Lectures by experts, technical discussions
Effect : Share the areas of interest b/w Hyundai Motor Group and participant organizations, explore R&D themes by examining new technologies and discover new experts
Technical Advice
Secure know-how in advanced technologies and reinforce the network of experts

Operation format : On-site domestic consulting (seminar), online consulting
Effect : Advance technical capabilities, reduce the R&D period and improve quality issues
Advisory Panel
Form a year-round industry-academy cooperation system and analyze latest technologies

Operation format : Consultative body, presentations (regular meeting)
Effect : Share an R&D strategy, suggest measures to solve problems at the working-level and set a development direction

5th Fl., Hyundai & Kia Next Generation Vehicle Building, 314 dong, Seoul National University, 1 Gwanak-ro, Gwanak-gu, Seoul
Tel. +82-2-870-8000 / Fax. +82-2-870-8088
ⓒ 2018 HYUNDAI NGV. ALL RIGHTS RESERVED.